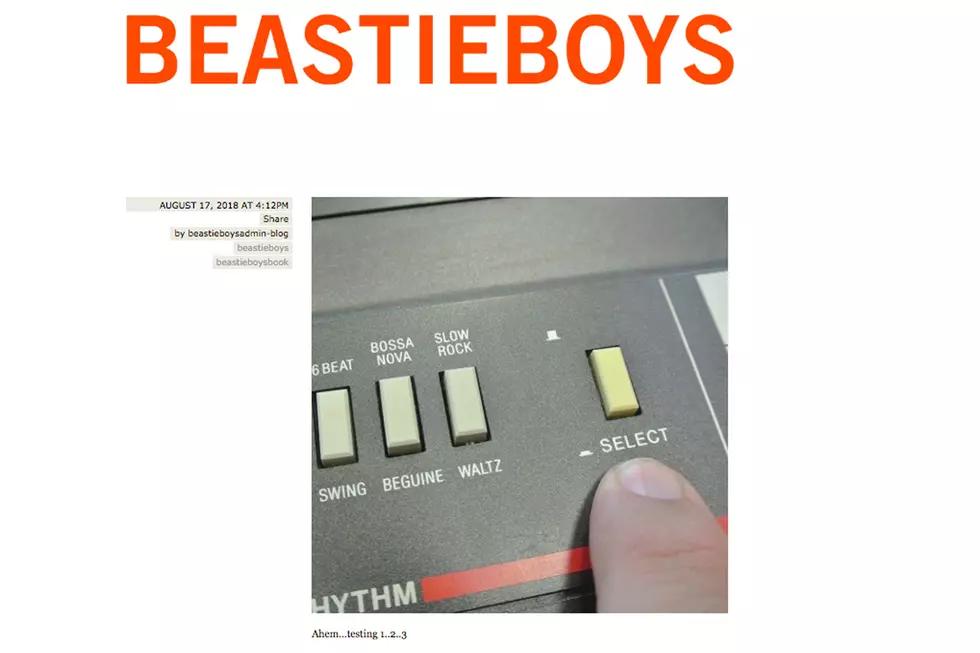 Beastie Boys Revive Their Website
beastieboys.com
With a huge new book on the way, the Beastie Boys have brought back their website. They announced the news on Twitter.
"Ahem…testing 1..2..3," they tweeted, along with a picture of an old-school musical equipment with pre-set rhythms, either a synthesizer or drum machine, which is also the contents of its most recent blog post. Its previous entry had been made on Sept. 19, 2012, and promoted the Kickstarter campaign for their percussionist Alfedo Ortiz's album.
Arriving Oct. 30, Beastie Boys Book will contain 592 pages of rare photos, a graphic novel, a cookbook from Roy Choi, mixtape playlists and a map of the Beastie Boys' New York. Essays were provided by such notables as filmmakers Spike Jonze and Wes Anderson, comedian Amy Poehler and writer Colson Whitehead.
The two surviving Beastie Boys, Michael "Mike D" Diamond and Adam "Ad-Rock" Horovitz, are listed as the book's authors. According to the synopsis, they "offer revealing and very funny accounts of their transition from teenage punks to budding rappers; their early collaboration with Russell Simmons and Rick Rubin; the debut album that became the first hip hop record ever to hit #1, Licensed to Ill—and the album's messy fallout as the band broke with Def Jam; their move to Los Angeles and rebirth with the genre-defying masterpiece Paul's Boutique."
"To tell our story, we have to give the cultural history of where we came from," Mike D said. "So New York City in the '80s, you had all this incredible, exciting music, art, film. All of that sort of has to converge to be able to explain. We just had the good fortune of being around all of it, so I think that's Number One. I can say pretty confidently, it will be unlike any other music book."