Bismarck's Flurry Fest Features Plenty Of Fun Inside And Out!
AntonioGuillem
Winter has finally arrived and we can embrace the elements for some fabulous February Flurry Fest fun!  It's the return of many of your Flurry Fest favorites along with the introduction of some new family friendly activities.
But not everything takes place out in the arctic cold, many events are indoors on the courts even in the water.  Bismarck Parks and Recreation District's 2021 edition of Flurry Fest now includes a Date Night Skate Night, Cookies and Crafts, Ice Rink Passport and more!  Rediscover Bismarck's ice rinks with your passport- it works a little something like this..
Grab a passport at any rink's warming house, get it marked by the attendants and then turn it in to be entered into a drawing for a gift certificate. Passports must have at least three marks from three different ice rinks to be entered in the drawing.
Hopefully you've taken some pictures of the beautiful frost covered trees, especially in your Bismarck parks!  If you have, make sure to enter the Free Photo Contest you could win a great prize package from Bismarck Parks and Recreation District.  One of the highlights of Flurry Fest has always been the citywide Treasure Hunt!  Five days and five clues will have you and friends and families testing your skills and having a great time doing it.
There's free golf advice, gymnasium time, pool time, skating time, snow volleyball, artistic adventures and so much more.
Shake the winter blues with so much to do all this month during Flurry Fest!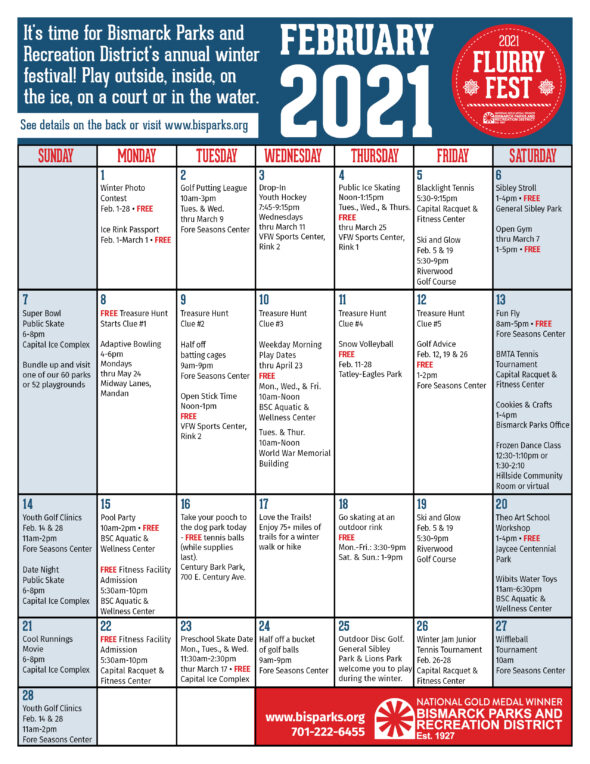 CHECK IT OUT: 100 sports records and the stories behind them