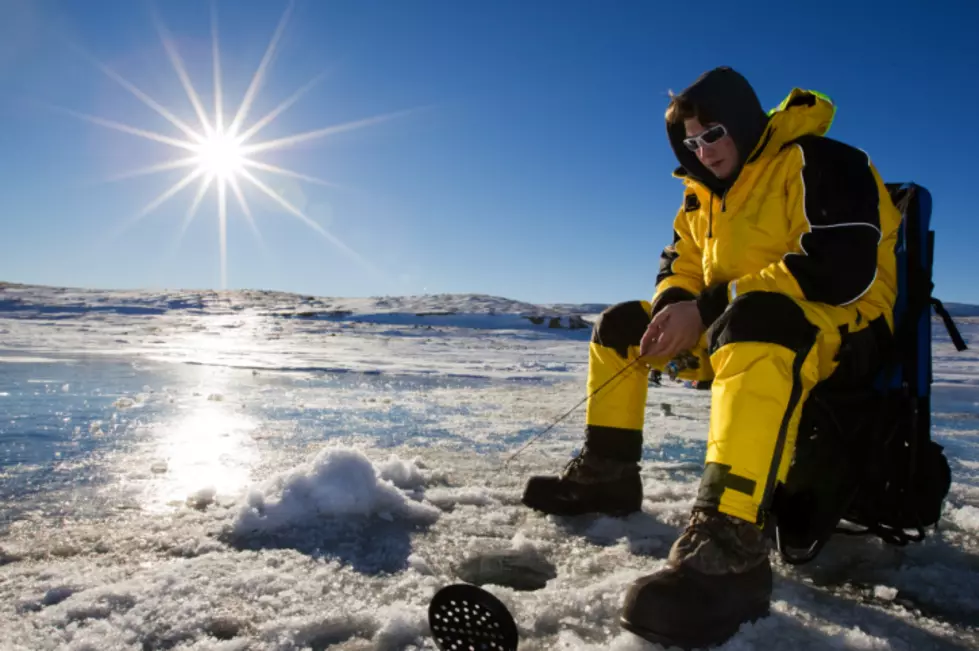 North Dakota, Is Ice Fishing Insane Or Just Plain Crazy?
Stephen Mcsweeny
The North Dakota wind is howling, but you've got your stocking cap and gloves on, so it shouldn't be so bad. Brace yourself...
Open your car door and get ready for that fast-walk thing you do when you've got to get from your car to the front door of the grocery store. People can't really hear you muttering and cursing the cold the whole time you're shuffling as fast as you can to get inside!  Brrrrr baby brrrrr!
Now imagine sitting on a plastic bucket on a barren wind swept frozen lake for six hours. Yup, ice fishing.
I need to make a quick disclaimer for those that have a $70,000 ice cabin with satellite TV, guest room, and tank tracks so you can drive it all over the lake.  That's not the ice fishing I'm talking about. I'm discussing the ice fishing I grew up with, and the ice fishing many folks still practice today.  The freeze your ass off and only go into the 1968 Ford F-150 when a finger falls off. That's the ice fishing I'm talking about, and that's much of the ice fishing I saw last week in my multiple journeys past Lake Audubon.  On one side it's Lake Sakakawea which just only this weekend froze over 100%.  It's the latest full freeze in the big lakes history! We've got another great story about that record right here. Did you click an come back already?
On the other side of Highway 83 the much smaller but still pretty darn big Lake Audubon.  And it's littered with ice houses and pickups...there's been a ton of stories of vehicles falling through the ice during this unusually warm winter.
But let's just say it 100% safe to drive your family out on a frozen lake- why would you?
Because any family time is a great time!
Enjoy that family time when you can...after that first time dragging the kid-cicles out on the ice sheet, they're probably going to just stay in bed and watch Sponge Bob next time you invite them. Is it cool to pull fish-after-fish out of a hole in the ice? You bet it is! But then your hands get wet and it's off to the F-150 to reattach your fingers. One other thing we didn't have when I was a kid- a GAS POWERED ice auger. Y'know how long it takes a seven year old to go through 20 inches of ice with a hand powered auger?
Nobody knows because the spring melt would have come before I was done.
So ice fishing folks, please sound off why you love ditching shelter on a Sunday for the frigid thrill of frostbite.  Everyone says "they must really hate their families", I know that's not true because my dad dangled a line or two whenever the Vikings weren't on TV and he loves his family.
Loved me enough to eventually let me stay home and watch Looney Tunes or I'd still be digging that darn hole.
---
LOOK: TV Locations in Every State