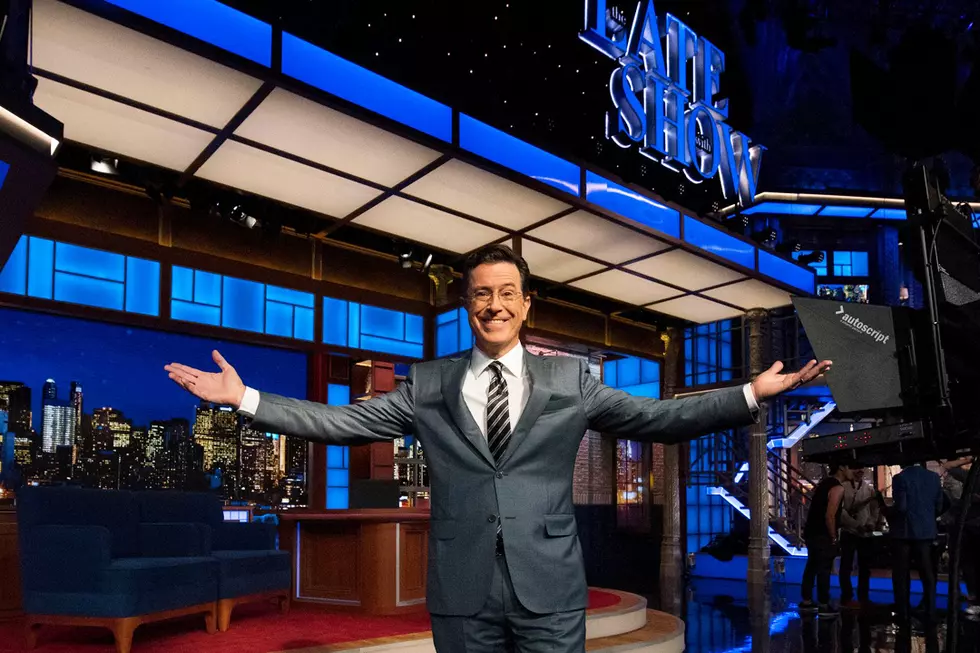 'The Late Show With Stephen Colbert' Resumes Tapings With Audiences in June
CBS
It's been more than 430 days since The Late Show With Stephen Colbert shut down their production home at the venerable Ed Sullivan Theater because of the growing coronavirus pandemic. While riding out the threat of Covid, The Late Show With Stephen Colbert was rebranded A Late Show With Stephen At Home, with Colbert providing a more stripped-down and casual program recorded first at his house in New Jersey, and later from a recreation of his home set in the Ed Sullivan Theater offices.
Finally after more than a year of A Late Show, The Late Show is ready for a comeback. According to a press release, Colbert will return to tapings in the Ed Sullivan Theater in front of a "full audience" on Monday, June 14. At least to start, only those who have been fully vaccinated for Covid will be permitted to attend:
The plan to return to the theater is consistent with New York State's adoption of the CDC guidelines for fully vaccinated individuals and has been reviewed by the State. Guests will be required to show proof of being fully vaccinated prior to entering. Face masks will be optional. All staff and crew members will continue to be tested prior to commencing work on a regular basis, as well as screened daily for symptoms. In addition, a COVID-19 compliance officer will be on staff to monitor and enforce all health and safety COVID-19 protocols.
"Over the last 437 days, my staff and crew (and family!) have amazed me with their professionalism and creativity as we made shows for an audience we couldn't see or hear," Colbert said in a statement. "I look forward to once again doing shows for an audience I can smell and touch."
Colbert and the rest of his late night peers shutting down their shows, were one of the first really ominous signs that Covid was getting out of control. So his return to the studio with a full audience is a very encouraging sign. The Late Show With Stephen Colbert airs on weeknights at 11:35PM ET on CBS.
The Best TV Shows of 2020
We ranked the best films of the year. See if your favorite made the cut.