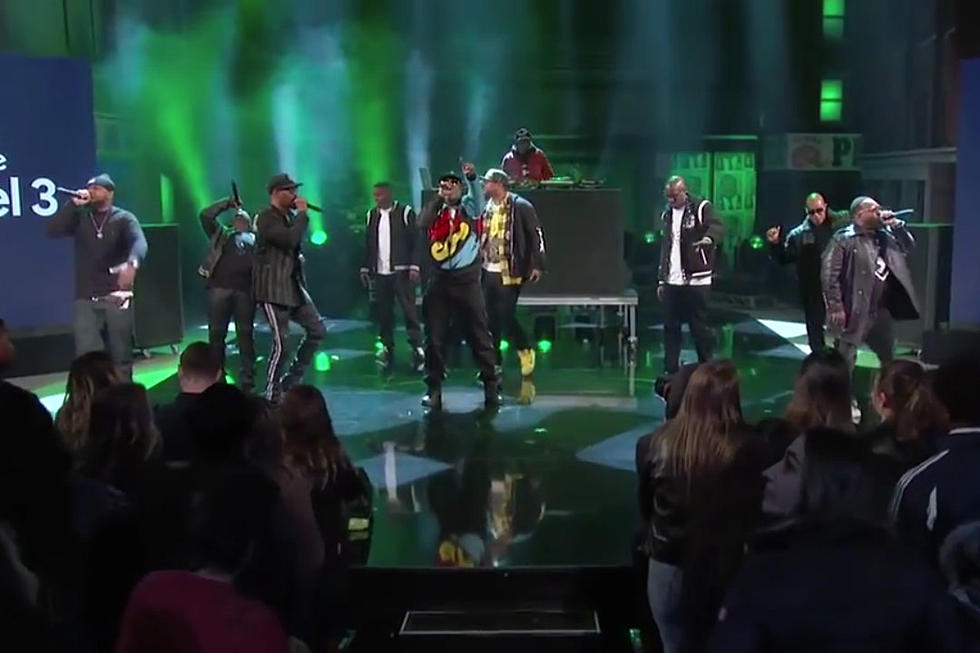 Wu-Tang Clan Perform "Protect Ya Neck" and "C.R.E.A.M." on 'Jimmy Kimmel Live!'
Jimmy Kimmel Live via YouTube
With the 25th anniversary of Wu-Tang Clan's debut album Enter the Wu-Tang (36 Chambers) fast approaching, the legendary New York outfit is doing some things to commemorate the project. On Saturday night (Oct. 20), they were special guests on Jimmy Kimmel Live! and performed the classic cuts "Protect Ya Neck" and "C.R.E.A.M."
All living members of the group were on hand as RZA, GZA, Method Man, Raekwon, Ghostface Killah, U-God, Cappadonna, Inspectah Deck and Masta Killa rocked the stage. ODB's son was present and rapped in place of his late father. The first song they performed was "Protect Ya Neck." The crew mobbed through with a second set, delivering the fan-favorite "C.R.E.A.M." Later on, Method Man and RZA participated in the 3 Ridiculous Questions segment.
There's more in store for the anniversary. Back in May, XXL spoke with Loud Records founder Steve Rifkind. He revealed that a remake of 36 Chambers is in the works, with a twist. The remake will feature nine current artists who will play a character from the original LP. "With Wu-Tang, we're gonna do a few things," he explained. "We're gonna remake the album with nine MCs from today and each new MC will play a character in the original 36 Chambers. There's gonna be a major tour cause it's also Wu's 25[th anniversary]."
The W will also be re-issuing "C.R.E.A.M." on a special logo-shaped vinyl on Dec. 14, via Certified Classics. More merch will be available as well. The group recently performed at the A3C Festival and were featured on Logic's YSIV album.
Watch footage from Wu-Tang Clan's performance on Jimmy Kimmel Live! below.
See Photos of Rappers' Fashion Choices in 1997