Win,visit,get spooked,everywhere to shop,go,drink and celebrate Halloween in Bismarck-Mandan.
Check out all the cool costumes now at the Gateway Mall
You can visit the Haunted Highway Costume Liquidator now at the Gateway Mall SW corner on Highway 83 going north.Also visit Party America in south Bismarck for all your Halloween and decor needs.
Join us Friday October, 26th with the BisMan Bomshellz Roller Derby Team!
Broadcasting Live on Halloween Night at "The Haunted Fort"!
Be on the look-out for Awesome Halloween savings.
Listen for HOT 975 to send you to the scariest place in Bismarck-Mandan "The Haunted Fort".
Listen every week through Halloween to win tickets to "The Haunted Fort"!
You can find "The Haunted Fort" on Highway 1806 south of Mandan. "The Haunted Fort" opens Thursday October 11th at 7:30pm.
DATES
October 11th, 12th & 13th
October 18th, 19th & 20th
October 25th, 26th, & 27th
Special evenings 28th, 29th, 30th, & 31st
HOURS
Fridays and Saturdays - 7:30pm - 11:30pm
Sundays - Thursday - 7:30pm - 10:00pm
Halloween Kids Bash
1:00pm - 5:00pm
$5.00 per child with adult
October 14th, 21st, & 28th
For more details visit http://hauntedfort.com/
Halloween Movies at the Grand Theatres
"Paranormal Activity 4" opens Thursday October 18th at 9:30pm
"Sinister" continues,"House at the End of the Street"
"Hotel Transylvania 3D", "Frankenweenie 3D"
October 25th watch the ORIGINAL "Halloween"
Grand Theatres schedule here http://www.grandtheatres.com/
HORROR HIGH
This Halloween weekend Shade Tree Players are proud to present Horror High as part of the Frances Leach High Prairie Arts and Science Complex's "Haunting Arts and Spooktacular Science" event. This fun family frightfest, directed by Amanda Perry, promises to be a day of thrills and chills for all ages.
Horror High takes all of those horror film icons of long ago - Frankenstein, the Mummy, Creature from the Black Lagoon - and transforms them into high school teenagers in their senior year at Horror High School.  Will Georgia the Zombie stop eating brains long enough  to realize her Bigfoot boyfriend is unhappy on the football team?  Will Blair the Witch be able to convince Victor Frankenstein that his monster isn't just a bunch of used parts?  Will Nosferata the Vegetarian Vampire and Larry the Wold ever be able to convince their parents a "mixed" relationship is okay?  Sixteen classic monsters make up the faculty and student body of Horror High!
Horror High will be performed at The Frances Leach High Prairie Arts and Science Complex, located at 1810 Schafer St. in Bismarck, on Saturday, October 27th at 1pm and 3pm. Carnival style tickets can be purchased for $1.00 each for the Haunting Arts and Spooktacular Science event and admission to Horror High is 4 tickets per person or 3 tickets for Shade Tree Players members. Tickets will be available at the door on the day of the event.For more information please visit www.ShadeTreePlayers.com, email execdir@dakotastageltd.com, or call 701-258-4998.
Kid's Halloween Fun Night hosted by University of Mary Occupational Therapy students.
Kids in grades K-6 are invited out Friday, October 26th from 7-9:30 pm at the 1st Lutheran Church (408 9TH Street North West, Mandan).
Tickets if purchased in advance are $2/child with a $5 maximum/family OR $3 at the door.Call to RSVP: 701-390-3758 OR 701-220-9310. You can find tickets for sale at "Western Unlimited" Located at 26th Street, Bismarck.Hot Dogs and Drinks available for a donation!!
Brought to you by University of Mary Occupational Therapy students to support their upcoming Guatemala summer service trip.
Praire Rose Elementary Annual Haunted House & Carnival
SATURDAY OCTOBER 27th
4:30pm to 8:00pm
2200 Oahe Bend
Bismarck, ND
Tour the Haunted House, purchase food and play games
General Auction and Silent Auction for all to participate in…lots of great stuff!
This event is geared for elementary age kids.
Directions: From Bismarck Expressway, turn South onto University Drive (1804 S), After passing the Bismarck Airport,
Continue on 1804 for 2 miles. Then turn Right on Angus Drive. Left on Apple Creek Drive.
Right on Oahe Bend. Boo you're there! (signs will be posted).
OR
Take 12th Street South to Oahe Bend and follow Oahe Bend to school on left.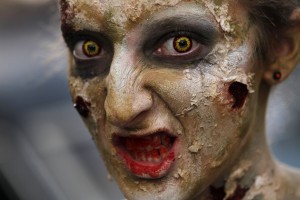 Bismarck State College Theatre invites its patrons to enjoy some Halloween fun with Stage Fright - A BSC Theatre Haunted House Oct. 26-27. With theater flair, the scares have been created and designed by students in the BSC Drama Club. A number of former students are returning because participating is so much fun, said Dean Bellin, assistant professor of technical theatre. A ghoulish guide will offer visitors the opportunity to go on stage, backstage and all around Schafer Hall's Sidney J. Lee Auditorium for horrid encounters. Costumes are encouraged but not required. Activities for younger children will be set up in the lobby outside the theater. There will be Halloween carnival games, face painting and candy giveaways. Haunting hours are 6 to 11 p.m. with $5 admission at the door. Proceeds go to the BSC Drama Club to help fund a trip to the Kennedy Center American College Theater Festival at Iowa State University in January.
Trunk or Treat
New Song Church will be hosting its 4th annual Trunk or Treat on Wednesday, October 31, from 5-8 pm. It's a fun, safe, and FREE event on Halloween for the whole family! Cars parked in the parking lot will be decorated and have their trunks filled with candy for kids to go "trunk or treating". There will be many carnival games to play inside. Free hot dogs, popcorn, and hot chocolate will be served. There will also be a drawing for 2 new kids' bikes! Call New Song at 258-5683 with any questions.
Trick or Treat Maze
Drive through the Trick or Treat "Maze" Wednesday, October 31st and bags of treats will be delivered to the children in your car at Riverwood Church located at 3030 S. Washington St. The event will run from 6-8 pm.
New Song is located at 3200 North 11th St between North Dan's and Menards.
Need a Halloween Party to attend? Here are some of the Parties happening around Bismarck - Mandan:
Captain Freddy's is having three Halloween Parties on Friday the 26th, Saturday the 27th and Wednesday the 31st with prizes totaling up to $1,000! Also on Halloween from 4-7PM they are having Trick-o-Treating for Kids!
Bucks is doing 2 Halloween parties. One on the Saturday the 27th and the other on the 31st. $500.00 in cash and prizes will be given out each night for best Costume contest.  Midnight Noise Orchestra will play Saturday  and Over the Edge will play Wednesday in the game room.
The Broken Oar will be having their Halloween party on Saturday night with DJ Jared playin' the hits both Friday and Saturday. Prizes for the contest on Saturday include: gift cards, and cash prizes for 1st, 2nd, and 3rd place!
Join Westside Bar & Grill and DJ Paul Berge on Saturday the 27th for their Halloween Party! There will be $600 in Cash and Prizes to the Top 5 Costumes!