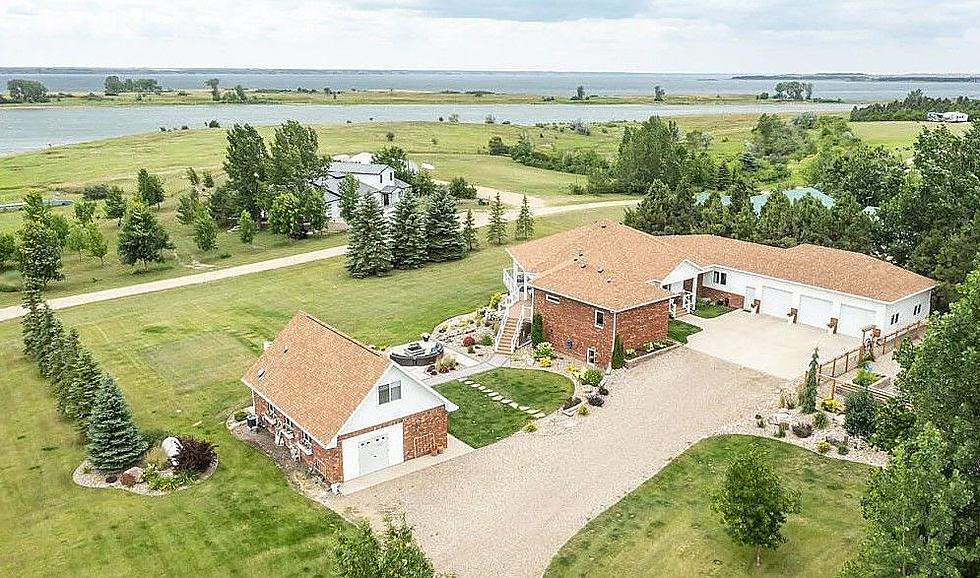 Check Out North Dakota's Largest Home Currently For Sale
Chris E. Volk-Rise Property Brokers
Go BIG or go home right?
North Dakota's LARGEST home currently for sale is nearly 6,000 square feet of luxury.  According to Zillow North Dakota, this home features 6 beds and 5 baths with 5,826 square feet.  This is a ranch home with an open concept.
Some of the amenities include heated tile floors, a geothermal system, a spa-like bathroom, and a dry sauna.
This home overlooks Lake Sakakawea and is located between Fort Stevenson State Park and Douglas Bay.  The address is 1203 46th Avenue Northwest, Garrison, North Dakota.
You even have a place to put your guests as this property boasts a guest house with a bedroom, kitchen, and full bathroom.
How much will this lake palace set you back?  Try $1,295,900.
You will need deep pockets to afford this home.  Your mortgage payment will run you somewhere near $7,500.00 a month.  No problem right?!
This home is set on 1.04 acres and even has lake access to put in your own dock.
This property has been on Zillow, North Dakota for 66 days at the time of this article.  The landscaping around this home is stunning and even features a waterfall and a fenced-in garden.  As you probably guessed, this is a year-round home.  It was built in 2015.
If you enjoy lake life and have the money this home might be right for you.  I love the guest house to keep the relatives out of your hair when they come and visit.
Lake Sakakawea is one of North Dakota's finest outdoor destinations with so many things to do and see.  Whether you're into hunting, fishing, snowmobiling, hiking, and countless other things.  If you got the cash, this could be your new forever home.
So, without further ado, lets check out this water mansion.
North Dakota's LARGEST Home Currently For Sale
LOOK: This Washington Cabin is Straight Out of an 'I Spy' Book
This place will basically make you feel like you're inside one of the popular books.
The 10 Smallest Towns in North Dakota for 2023!