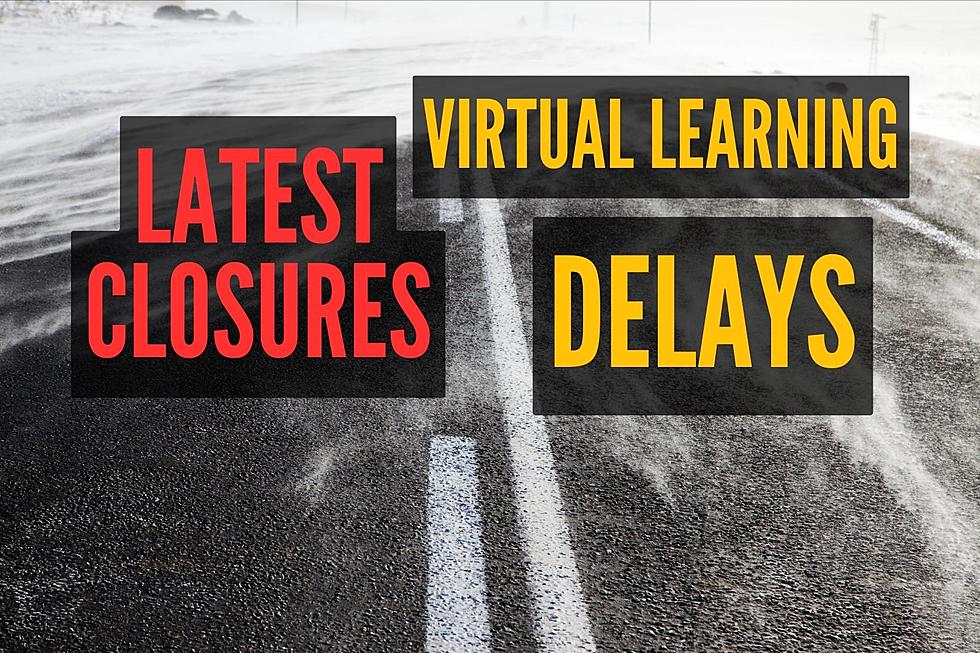 Latest School Updates, Weather, Roads & More For Bismarck Mandan Area
Canva
Be prepared. Call ahead. Give extra time. Winter is not letting up.
This may just be the week that puts our winter snowfall totals over all other records.
It is Slick, Icy Out There. Plan for a slower commute today.
See the Weather Outlook Below, Snow Continues, Blizzard Conditions Possible.
Be Aware of traveling in Rural Areas
Travel across North Dakota may be treacherous at times, be prepared.
Roads may be icy, slippery and snow-covered. Road crews are working as fast as they can to clear. Be patient, understanding and prepared for slow commute times.
LATEST NORTH DAKOTA WEATHER
For the latest weather forecast from the National Weather Service, Click HERE. Forecast for Bismarck, Mandan, and Surrounding Areas.
LATEST NORTH DAKOTA ROAD REPORT
For the latest from the ND Department of Transportation, Click HERE.
---
WEATHER-RELATED ANNOUNCEMENTS THURSDAY
Bismarck - Mandan and Surrounding Central North Dakota Weather-Related
BUSES RUNNING WHERE POSSIBLE
VIRTUAL or DISTANT LEARNING or E-Learning
Leeds Public School
NO SCHOOL
Napolean Public School: Back To School Tuesday, April 11th.
Wishek Public School: Back To School Monday, April 10th.
Medina Public School: Back To School Monday, April 10th.
Zeeland Public School
SCHOOL DELAYS,THURSDAY, April 6th
ONE (1) Hour Delays: Buses where possible
Flasher Public School & Carson Public School
TWO (2) Hour Delays: Buses where possible
New Salem - Almont Public Schools
CLOSED: OTHER PUBLIC AGENCIES
OTHER SCHOOL NOTICES
Contact bus drivers in rural areas if roads are drifting or hazardous.
Please be cleaning out the driveways
WHAT CAN YOU DO
Drive with caution
Slow down
Move vehicles off streets for snow removal
Shovel your sidewalks
The Top 10 Most Affordable North Dakota Cities To Buy A Home