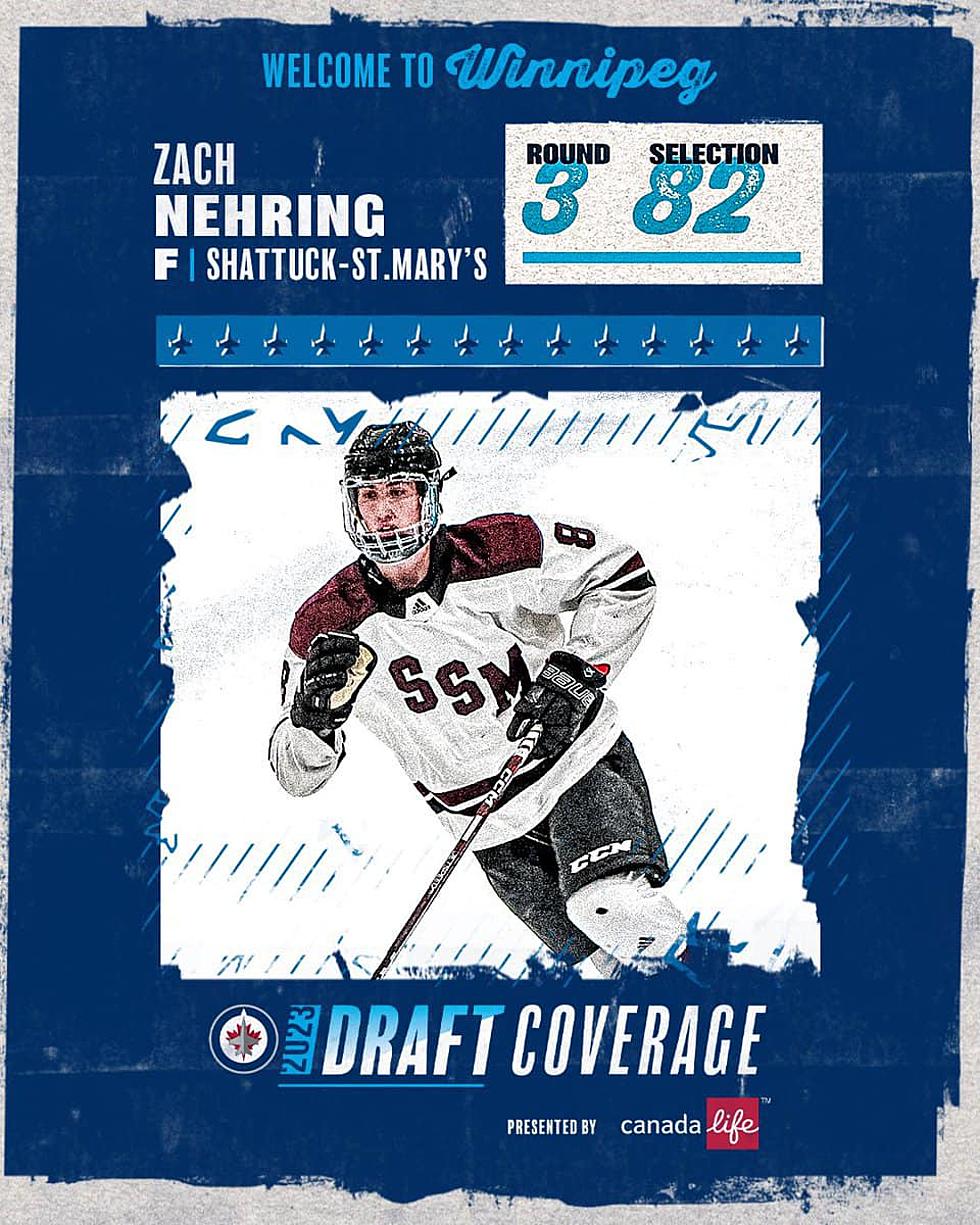 The NHL Draft -UPDATE On A Minot Native – A Rising Star
Kelly Nehring
**** UPDATE: I am thrilled to bring you this exciting news....below is what I wrote last week about Minot Native Zachary Nehring - Proud father Kelly and 30 other family members witnessed the very beginning of a talented rising star
As you can imagine here are some reactions from a pretty excited young man...

Winnipeg Sports Talk
Here is what I wrote last week...
THE NHL Draft, that's what is going on in Nashville, Tennessee. There are 30 proud family members of a North Dakota young man who is about ready to enter stardom. His name is Zachary Nehring, and God gave him the tools to be a hockey player, and several key heads are turning his way at the NHL Draft.
His stats alone are quite impressive...
...check this out - according to thehockeywriters.com      "During the past two seasons, Nehring had 65 goals and 172 points in 111 games and was a big part this season in leading Shattuck-St. Mary's to its seventh Tier I 18U national title. In that tournament, he had five goals and six assists in the tournament's six games. His 11 points were third-best among all skaters. See what I mean? Born to play hockey.
So how early in the draft could Zachary be picked?
Some are saying "as early as the third round"
"Nehring's physical game and the scoring success married to his playing style have got him noticed. As a player who can be smart, can win battles, and uses his size well, he will likely be selected in Round 4, but don't be surprised to see him drafted a round earlier."
"The skill is there and there's an edge to his game. He is an intelligent player. Nehring is a player to track at this year's draft." – Allan Mitchell, The Athletic (Lowetide: Will the Oilers draft (and keep) a world-class agitator in 2023?, The Athletic, May 27, 2023)
"Nehring's a good skater with a really nice scoring touch. He has a high level of competition, battles hard in the corners and along the wall, and can make plays with the puck. He has a nice scoring touch. The nice thing is that with that competitive and edge to his game, he throws in 50 penalty minutes as well." – Brandon Wheat Kings assistant general manager and director of scouting Doug Gasper
But there is much more to this story that I love the most.
"There are 30 members of our family out here all together - proud of Zachary"
Isn't that the coolest thing? His dad Kelly Nehring ( who lives in Bottineau ) and I were on the phone this afternoon - Kelly was relaxing poolside, letting his nerves settle. His love for his son has seen many days of hard work, from grueling practices to a billion road trip games - THIS family is together as one to support a young man with a boatload of natural talent.
I had ONE very obvious question I wanted to ask Zachary's dad Kelly...
"Has it settled in yet that this amazing opportunity for the whole Nehring family is about to happen?" His reply was easy to understand - "It's pretty hard to get your brain around..I'll have trouble hiding my tears"
Please don't - this is YOUR moment Kelly, to the 30 family members as well, AND finally to Zachary Nehring...
...You have made Minot And North Dakota Proud! Tear It Up!!!!!
---
LOOK: 25 must-visit hidden gems from across the US
From secret gardens to underground caves,
Stacker
compiled a list of 25 must-visit hidden gems from across the United States using travel guides, news articles, and company websites.