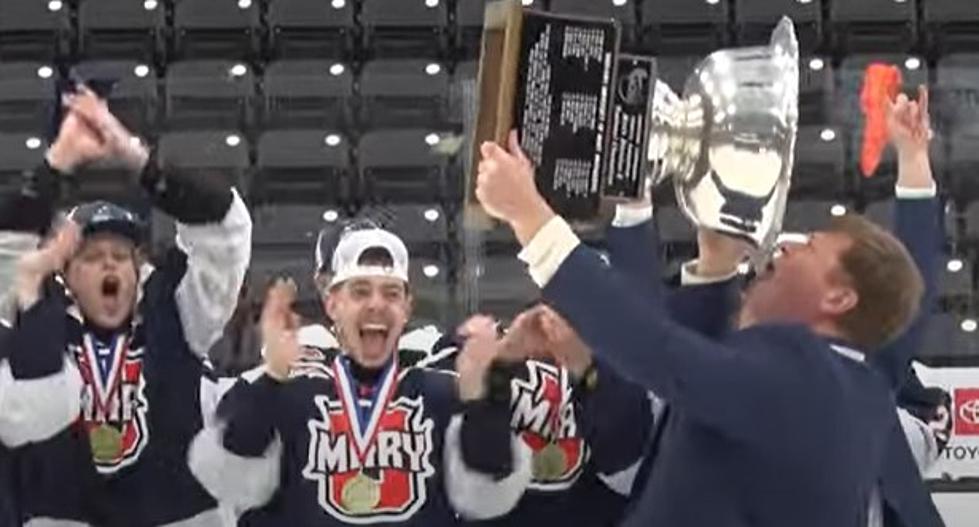 Bismarck's UMary Hockey Team Defends Their National Title
University of Mary Athletics YouTube
I hope we can all sit back for a second and think about what it takes to WIN a National Championship
Everything has to be in place to even be in a National Championship game, all the practices, endless hours on the ice with constant aches and pains from a long season, it's a culmination of grit and desire. Last year in April I was thrilled to bring you a classic hook from Queen that applied perfectly to UMary "We are the champions, my friends and we'll keep on fighting till the end - We are the champions - We are the champions - No time for losers 'cause we are the champions of the ACHA DIV.II"  UMary shut out Iowa State to win their first D-II title in their program's history.
Well you can crank up that tune once again
Needless to say, when you start out a brand new season, you are the marked team. Everyone is gunning for you, to knock you off your National Title perch. As difficult as it is to win a title, it's 100 times tougher to repeat. This year the Marauders steamrolled into the championship game in Maryland Heights, Mo last Friday riding a 19 game winning streak. Their opponent Florida Gulf Coast was going for their 21st victory in a row.
This is when a coach knows exactly what to say, at the perfect moment
I have a video to share, 10:25 of pure gold. UMary coach Dan Huntley addresses his team in the locker room before the championship game, this is the moment where winners get inspired, this is also a time in their lives they will always remember. Win, or lose, this is what sports are all about:

University of Mary Athletics YouTube
A thrilling 3rd overtime 3-2 win.
This is OUR team, Bismarck's UMary - REPEAT National Champions!!!!!!
---
20 Words North Dakotan's Can't Pronounce