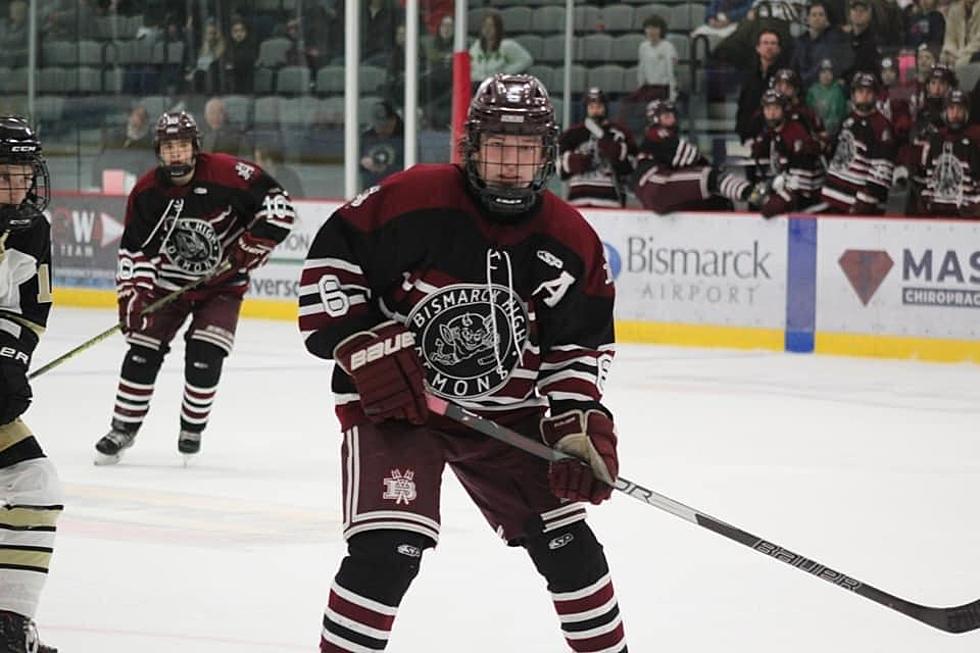 Enemies On The Ice, Friends Off. Legacy VS BHS First Time Ever
Mindy Richardson
It was kind of a historic night at Bismarck's VFW Arena on Tuesday, December 14th, 2021.  For the first time ever, the Bismarck Legacy boys hockey team played the Bismarck High School Demons.
Bismarck Legacy in their inaugural season came into the evening with a 3-1 record in the Western Dakota Conference.  The Sabers have not been your typical start-up high school hockey team so far.  They've been very competitive.  In fact, they've been in all but one of their games so far this season.
The Legacy boy's hockey team has a lot going for them. 
First off,  they hired former UND hockey star Mario Lamoureux as their head coach.  Enough said there.  Next, they landed some key transfers.  Legacy's roster literally had 6 former Bismarck High School players playing against their old team last night.
Two of those players would likely have been Captains on this year's Bismarck High Demons team.
I'm speaking of Miles Stiefel and Avery McMahon.  Both seniors and now captains on the Bismarck Legacy team.  You can only imagine their emotions last night playing against the team they played for the last 2 seasons.
I spoke with Miles Stiefel on the phone today and I asked him what it was like to play against your friends? 
Miles said, "On the ice, we're enemies, off the ice were fishing and hunting buddies.  That will never change."   Miles said that one of Bismarck High's captains Hunter Acker apologized for checking him during the game.  Miles said he laughed and told Hunter, "It's hockey, it doesn't matter what happens on the ice, we're always going to be friends off the ice."
Miles Stiefel and Avery McMahon from Legacy, and Bismarck High's captains Remington Richardson and Hunter Acker stood around center ice for 5 minutes or so after last night's hard-fought game and congratulated each other.  I'm sure it was kind of surreal.  Four players that had been close teammates for the last two years, now adversaries.
The game last night which was won by Bismarck High 3-0 was hard-hitting and chippy at times.  However, I saw acts of sportsmanship like Avery McMahon from Legacy going up to hug former teammate and goalie Carter Shafer after he made an unbelievable save.  Something you seldom if ever see during a game.
Yep, this first-ever meeting by these two teams had a lot of subplots.  I'm sure this will develop into quite the rivalry in the future.  In the meantime, it was refreshing to see that after that final whistle these four hockey players still have that bond of friendship that only teammates (even former) can understand.
Catch high school hockey all season long on Super Talk 1270 and the free Super Talk 1270 app.
---
Most Famous Athletes To Go Pro In North Dakota