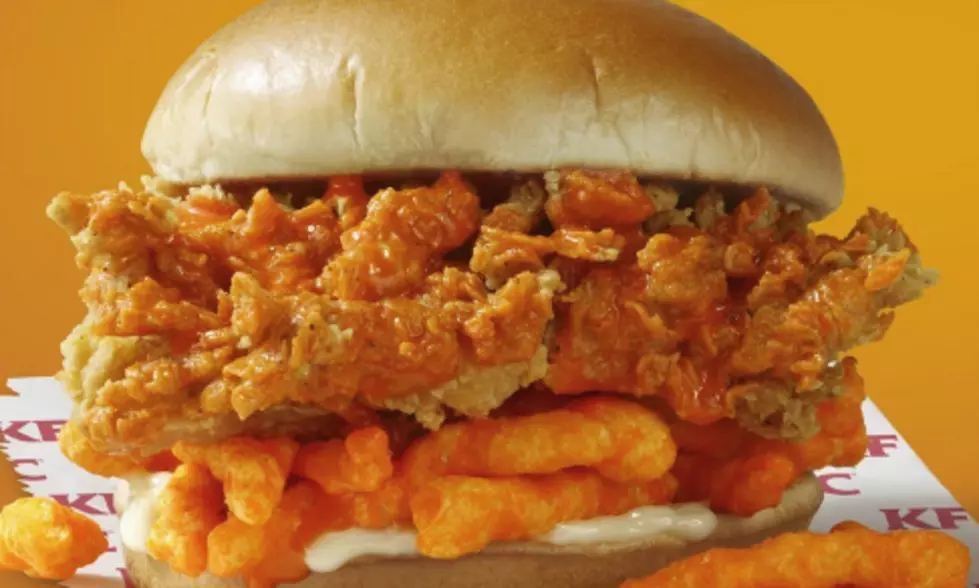 KFC is Making a New 'Fried Chicken Cheetos Sandwich' and We Need it in ND
Twitter ScreenGrab
A 'Fried Chicken Cheetos Sandwich' at KFC is being tested in southern markets and we need it to make its way up to North Dakota because it sounds delicious.
Sometimes food franchises and/or establishments come up with concoctions of food that will ultimately fail miserably and you can usually tell they would from the start. But every now and then, there are those times when restaurants find lightning in a bottle with something that just sounds amazing, like a 'Fried Chicken Cheetos Sandwich'.
In a press release, KFC says about the new sandwich:
Made by coating a juicy, hand-breaded Extra Crispy chicken filet with special Cheetos sauce and placing it on a toasted bun with mayo and a layer of crunchy Cheetos, the Cheetos Sandwich will give you a blast of craveable Cheetos in every bite.
Unfortunately, as is typically the case for all new menu items that undergo market tests, the sandwich's test markets are only at certain KFC locations in North Carolina, Virginia, and Georgia for a limited time. We can only root for those three states to have that sandwich blow up in popularity and sell as much as popularity so that KFC will expand the marketing of that menu item so far that we get it here in North Dakota.
A Fried Chicken Cheetos sandwich sounds amazing and we need it in Bismarck asap!