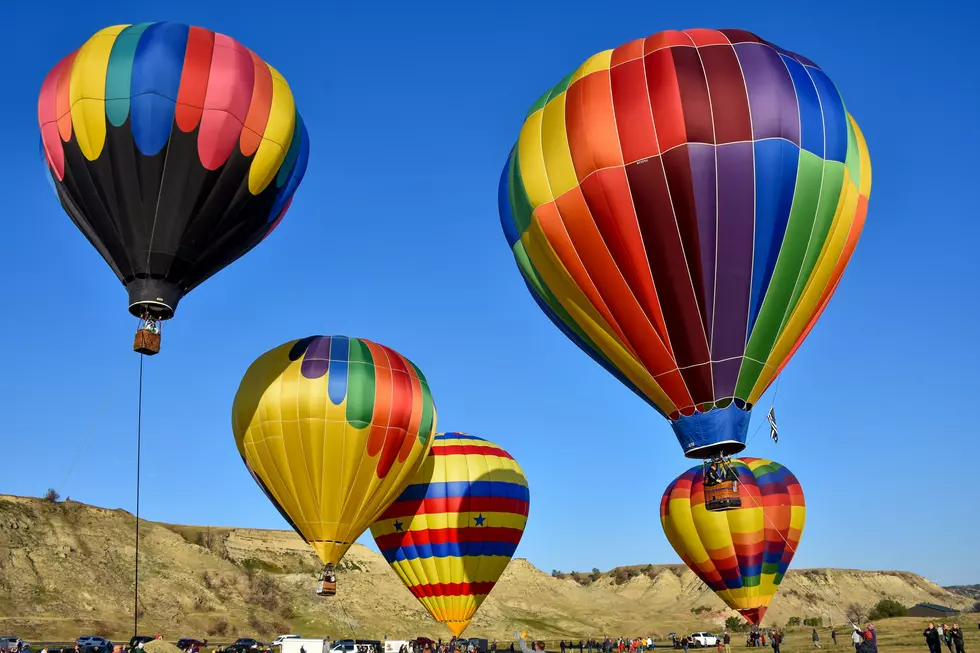 Medora, North Dakota's Breathtaking "Hot Air" Balloon Rally
Andi Ahne
You know Summer is winding down when Medora's annual hot air balloon rally is on the schedule.
This year's event titled "The Medora Hot Air Baloon and Badlands Kite Fest" will take place from Friday, September 9th through Sunday, September 11th.  This coincides with the closing of the Medora Musical for another season.
There's a full weekend of events scheduled for the whole family.  According to the Medora, Explore It, Adore It, website, if you would like to watch the balloons take off you will need to meet in the grassy lot south of the Medora campground, next to the city pool and tennis courts.  The alternate take-off location will be near Theodore Roosevelt's old ranch, south of the city of Medora, depending on the weather that day.
The balloon schedule for the weekend is as follows:
Saturday, September 10th there will be a pilot briefing at 5:15 am before the passengers arrive at 5:45 am.  The balloons will take flight at 6:30 am sharp and will land at 8:00 am.  Sunday, September 11th will see the same exact schedule for pilots and riders.
*In order to ride in one of the balloons, you will need to know one of the pilots
The schedule for the Badlands Kite Fest is as follows:
Friday, September 9th kites will be flying from 2 pm to 4 pm weather permitting.  Saturday, September 10th, and Sunday, September 11th kites will be flying from 10 am to 4 pm weather permitting.  If you decide to bring your own kite you are asked to steer clear of the kites already in the air. The Kite Flyers will be located at the top of the Burning Hills Amphitheater.  Just look for the kites to find the location.
---
LOOK: The states with the most UFO sightings
For each state, we've also included details of famous UFO sightings in that state. Of note is that almost three-quarters of all UFO sighting reports in the United States
occur between 4 p.m. and midnight
, and tend to peak between 9 and 10 p.m. Food for thought next time you're out scoping for alien life. Keep reading to see which states have had the most UFO sightings.
These Are The 15 Things North Dakotans Would Like To Outlaw