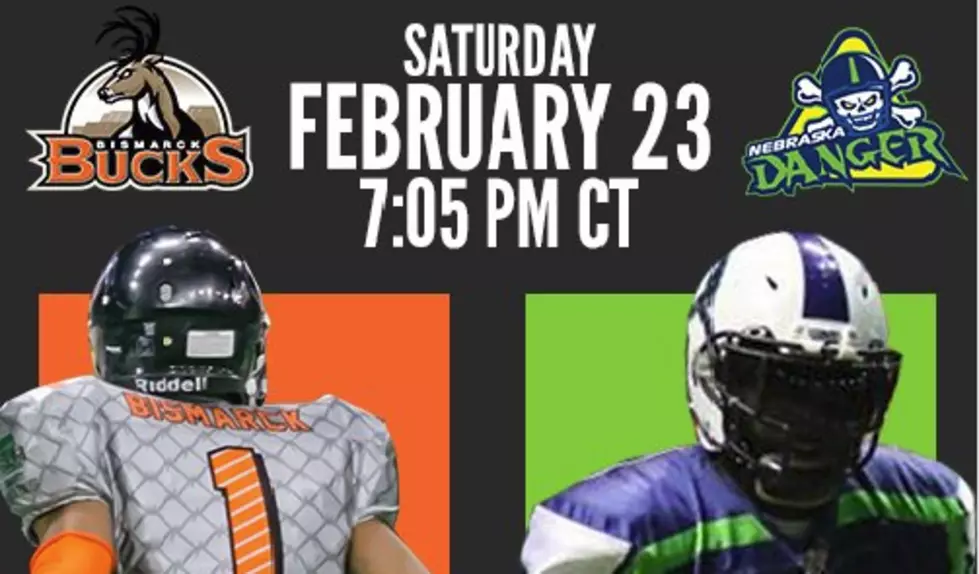 Watch the Bismarck Bucks Season Opener Tonight!
Twitter ScreenGrab
The NFL season may be over, but Indoor Football League action kicks off tonight as the Bismarck Bucks are on the road to take on the Nebraska Danger for their season opener.
The Bismarck Bucks have moved to a new exciting league and they will open the season tonight with the first of two straight road games to kick off the 2019 season.
As seen in the tweet above, you can watch the game by clicking the link. Kickoff is at 7:05 p.m. CST in Nebraska.
The Bucks home opener for the season will have to wait until their third game. It will come against the Sioux Falls Storm on Saturday, March 16th at 6:05 p.m. CST at the Bismarck Event Center. They will host seven regular season home games total in 2019.
As for their full season schedule, it can be seen here (all times CST):
2/23 @Nebraska Danger 7:05 p.m.
3/10 @Tuscon Sugar Skulls 6 p.m.
3/16 vs. Sioux Falls Storm 6:05 p.m.
3/30 vs. Nebraska Danger 6:05 p.m.
4/6 vs. Sioux Falls Storm 6:05 p.m.
4/14 vs. Iowa Barnstormers 2:05 p.m.
4/20 @Cedar Rapids River Kings 7:05 p.m.
4/28 vs. Quad City Steamwheelers 2:05 p.m.
5/4 @Green Bay Blizzard 7:05 p.m.
5/18 vs. Tuscon Sugar Skulls 7:05 p.m.
5/24 @Iowa Barnstormers 7:05 p.m.
6/1 vs. Green Bay Blizzard 6:05 p.m.
6/7 @Quad City Steamwheelers 7:05 p.m.
6/15 @Sioux Falls Storm 7:05 p.m.