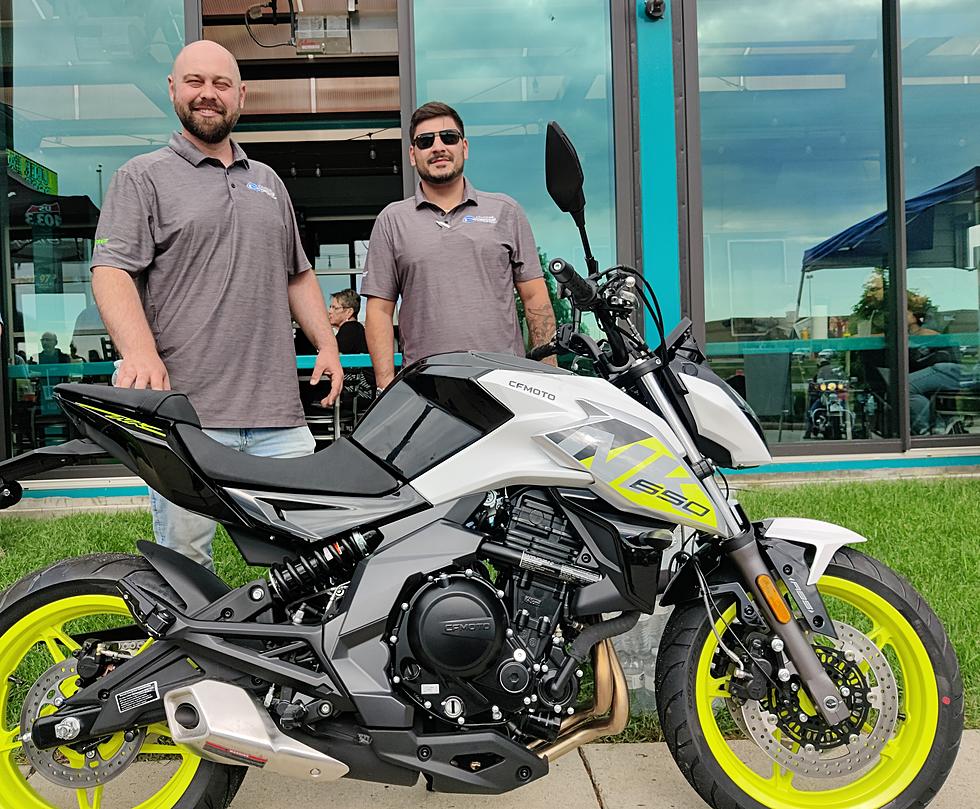 You Are Invited To Get NAKED At Dvorak's New Location In Bismarck
Bromo
This was quite the conversation last night at Sickies Garage Burgers And Brews...
...There I was with the General Manager Austin Roller and Andrew from Dvorak Motorsports And RV Center out in the parking lot of Sickies  - early on we actually had some rain roll in, mid-afternoon until about 4:45ish - it was now around 7:30, the sun was shining through, and the temps had risen to the high-80's - NOT ONCE did I ever consider shedding all my clothes, and that's a good thing for all of Bisman. However, in one BRIEF moment, Austin asked me what I thought of his pride and joy, his NAKED little friend. Well, I couldn't BARE to look.
The Grand Prize For 2023 Bike Night
He told me to stop being a prude, so I slowly uncovered my eyes and looked his way - there I saw a gorgeous 2023 CF MOTO 650 NK ( NAKED ) Motorcycle from Dvorak. This beauty came from Dvorak's new location over at 1829 East Bismarck Expressway. Austin is through-the-roof excited about their new digs -  a place large enough to suit all of their products - Motorcycles, side-by-sides, ATVs, campers, Vanderhall - imagine going over there with the full intent of getting NAKED - Austin was telling me that you are invited to come in anytime and take a test drive. Heck with their easy financing, you could be down the road feeling NAKED and free.
Get out there and explore your wild side by checking out Dvorak Motorsports And RV Center's NEW location...
...you owe yourself some fun in life - go check out their new location, and remember this, YOU could be NAKED at our 2023 Bike Night Finale in late August!
---
LOOK: Food and Personal Care Shortages We Could See In 2023
Learn about the 13 potential shortages that could impact stores in 2023, from produce and meat to snacks and beverages.